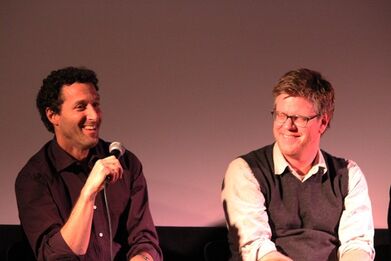 William McRobb and Chris Viscardi are American writers of television and film who helped create the Nickelodeon animated sketch comedy KaBlam!. In addition to creating the show, the two also helped write certain episodes.
The two got their start in the late eighties, as part of Nickelodeon's advertising division.
McRobb and Viscardi are however best known for their Nickelodeon show The Adventures of Pete and Pete, which originally ran on the network from 1993 to 1995. They also wrote the 2000 film Snow Day.
Recently, Viscardi was named as Senior Vice President of Content Development for Nickelodeon Franchise Properties. He will oversee creative strategies for the network's current key franchises including Teenage Mutant Ninja Turtles, SpongeBob SquarePants and Dora the Explorer; and mine the network's rich library of original series to reimagine and develop select shows for today's audiences, including the making of a Hey Arnold! original TV movie.