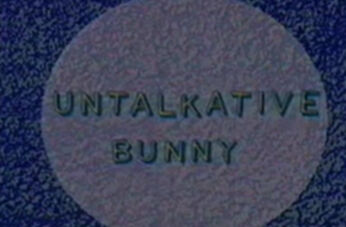 Untalkative Bunny is a Canadian/British co-produced animated series created by Graham Falk seen on the Nickelodeon animated anthology series KaBlam!, where its only appearance was the Season 3 episode "KaFun!".
Each episode focuses on a yellow rabbit named Bunny and the problems of modern life in the big city (closely based on Ottawa, Ontario, Canada). The show is full of modern life elements, including diets, vegetarianism, racism, and environmentalism.
A full series aired on the Canadian network Teletoon from April 15, 2001, to July 4, 2003, with 39 episodes (195 short films, five per episode) over three seasons.
Characters
Bunny
Squirrel (not seen on KaBlam!)
Emu (not seen on KaBlam!)
Friendly Friend (not seen on KaBlam!)
Beaver (not seen on KaBlam!)
Trivia
The segment shown on KaBlam! was Untalkative Bunny's pilot episode, aired before on MTV's Cartoon Sushi (the network's founder is Viacom).
Due to Nickelodeon owning only the airing right of the segment for initial reruns of KaBlam!, syndications and Paramount+ streaming of "KaFun!" have been removed.
Video