U-Pick Monday Marathon was a special programming block, hosted by Henry and June, with Mr. Foot (all of KaBlam! fame) as their sidekick. It was a special broadcast version of U-Pick Friday and it aired on January 17, 2000 from 2-8 p.m on Nickelodeon.
The announcement made by Nickelodeon for the show was following: "Henry, June, Mr. Foot and YOU picked six hours of your favorite Nickelodeon shows LIVE by phone or on the Nick website in the U-Pick Monday Marathon!"
Just like normally, Viewers could compete in the show by calling a 1-800 phone number on the screen or vote on Nick.com to choose the next cartoon out of three options made available picked from ten, with the exception of the first Nicktoon. That entry was voted on the website itself, like usual.
Outside of the results (available here and some footage (listed below), most of the other media around it has been lost.
Video
Here is a video with all the current footage available for U-Pick Monday Marathon.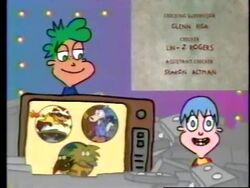 Gallery
Since the U-Pick segments of the marathon are interchangeable with the stuff used normally, both of them are presented.