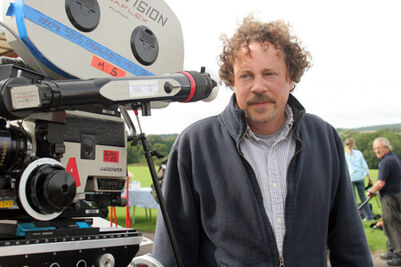 Tim Hill is an American film director, producer, animator, screenwriter and voice actor. He wrote, produced and directed on the live-action/stop motion segment Action League Now!, first seen on Nickelodeon's All That in 1995 before it was featured in KaBlam! from 1996 to 2000 (then becoming a standalone series on the network in 2001, but canceled the following year).
In addition to KaBlam!, he has been a writer and storyboard artist for fellow Nickelodeon shows Welcome Freshmen, Rocko's Modern Life and SpongeBob SquarePants, which in 2006 he won an "Best Writing in an Animated Television Production" Annie Award (sharing it with Mike Bell, C.H. Greenblatt and Paul Tibbitt) for the latter.
Hill has directed the live-action family films Muppets from Space, Max Keeble's Big Move, and the live-action/animated films Garfield: A Tail of Two Kitties, Alvin and the Chipmunks and Hop. He was also a writer and storyboard artist for The SpongeBob SquarePants Movie (2004). In 2020, he was a writer and directed The SpongeBob Movie: Sponge on the Run.
In 1997, Hill married actress Veronica Alicino (whom is frequently casted in minor roles for his films). He is the nephew of the late George Roy Hill, who notably directed the films Butch Cassidy and the Sundance Kid and The Sting.
External links