They nervous, they nebbish, they small, and the Populars don't like 'em at all. But that's ok, life is sweet. They cool. They the Off-Beats.
The Off-Beats is a traditional animation segment created by Mo Willems, featured on the Nickelodeon animated anthology series KaBlam!. It was seen on the first two seasons of the show. Each short film's plot revolves around a group of misfits that deal with problems from their rival clique, the Populars.
Overview
The Off-Beats has a distinct art style with flat, dry colors, and accentuation towards geometry, inspired by past artists such as Paul Moors and Fiep Westendorp. The animation is similar to that of United Productions of America (UPA) and Hanna-Barbera cartoons. The series itself, especially in story and concept, pays homage to the classic Peanuts television specials, especially since the majority of the voice cast are child actors. Each episode is musically composed with a jazz genre, featuring a combination of a piano, drums and a double bass.
Originally called The Misfits, the segment began in 1995 with three standalone short animated films that would appear as "SNICK Snacks" and on the Rugrats "Tommy Troubles" VHS, the latter releasing October 15, 1996. Before premiering on KaBlam! in December 1996, Willems was informed by Nickelodeon 24 hours in advance that the segment was to be renamed, and the titles had to be reanimated as well. After little deliberation, he came up with The Off-Beats.
The Off-Beats was taken off KaBlam! after Willems pursued creating Sheep in the Big City and writing episodes for Tom Warburton-created Codename: Kids Next Door, both airing on Cartoon Network (Nickelodeon's main competitor).
A special titled "An Off-Beats Valentine's" was produced in 1998, airing three times on Nickelodeon (twice in 1999, once in 2000).
Segments
Standalone short films: 1995
The animation was choppier and the character's voices are younger. Also, the bean-shaped logo for The Off-Beats is green instead of pink, and a Nickelodeon arrow logo appears at the top.
"My Dog Can Talk" — In an effort to befriend The Populars, August tells them that his dog, September, is able to talk. When he says "bow," The Populars laugh, but then he corrects and commands them to bow down to him, shocking them all.
"Your Shoe's Untied" — The Populars play the old "your shoe's untied" prank on the Off-Beats, but it only works on Repunzil, who then asks Grubby Groo to tie her shoes for her.
"The Twig" — Betty Anne Bongo finds a twig and tries to save it with the "help" of Repunzil. It does not work and they ask Tommy for advice. He suggests they leave it alone (his yelling also kills the twig even more) and then August and September use it for a game of fetch (which is played the other way around).
Season 1: 1996-1997
The first season features The Off-Beats pink logo without the Nickelodeon arrow logo.
"The Robodog" — September has a day off (in his contract) from being August's dog. So, August orders a new robotic dog, which "plays 4-ever." This soon bores him, and September takes notice. September obtains a Roboboy, which also "plays 4-ever," which causes the Robodog to leave August and befriend the Roboboy instead.
"Too Much Attention for September" — August takes a ride in his new invention, the helicart, but September refuses to go with him. Then, everyone else tries to talk with or play with September, driving him insane. (written by Steven Dovas)
"Betty Anne's Glasses" — When Betty Anne Bongo loses her glasses after playing her bongos, The Populars find them and Tina puts them on to mimic her. They hide them from The Off-Beats, who are unaware of this, but September figures it out and devises a plan to get them back. (written by Karen Villarreal)
Season 2: 1997-1998
Specials: 1999
"An Off-Beats Valentine's" — This half-hour television special features everyone getting ready for Valentine's Day. Grubby Groo is hosting a Valentine's dance. Tommy of the Off-Beats and Beth of the Populars develop a crush on each other. September also reminisces about a female cat named February he was in love with. Repunzil tries to get September a new crush and tries to give an escaping Tommy a valentine gift, and August tries to figure out how to get a girlfriend without the use of technology.
Note: In this episode, Tommy is seen without his hat for the only time in the series, revealing that he is bald. This episode also shows that the Populars sleep and live together, and each member is allowed a bathroom break away from the group, hence how Beth was solely able to talk to Tommy. Betty Anne Bongo and Repunzil are both shown to yell like Tommy.
Production notes: As the original voiceover child actors and animators returned, everyone was set for the production as cited in a press release: "We've had the same team of independent animators and voiceover kids for the past four years, so everyone really understood their characters and was ready to jam." It was produced in 1998 and premiered on February 12, 1999, on the Nickel-O-Zone block of Nickelodeon programming, rather than on KaBlam!. It was aired again on February 14, 1999, and February 13, 2000. This is the segment's first 30-minute episode and the only holiday-related special. Mo Willems uploaded the music score for the cartoon's theme song, the flashback of September's girlfriend's story, and the sad valentine song September played during the dance at a low volume due to the awful lyrics. The script for the full episode was also uploaded and then later removed.
Merchandise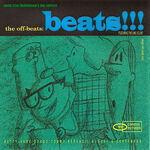 On a now-archived post of Mo Willems' blog page, he mentioned the production of a mock album called The Off-Beats: Beats!!!. It was made for the crew of his former animation studio Curious Pictures, who had worked on the Valentine's Day special episode. According to the post, the album included at least The Off-Beats intro, the background music played during September's backstory and the fully voiced (by Willems himself) song played at the Valentine's party. Louis Lino, who did music and sound design for the series, returned for this compilation.
The blog post once included three tracks from the album, but since its deletion, it is now in its entirety considered lost media.
Gallery