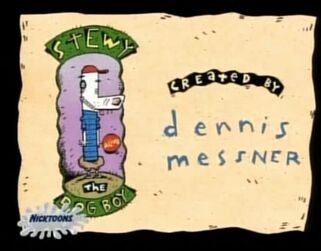 Stewy the Dog Boy is an animated short on KaBlam! created by Dennis Messner, which appeared on the Season 4 Episode "Under New Management". Stewy the Dog Boy was planned for its own TV series for Nickelodeon, however due to Disney's cartoon Teacher's Pet premiering around the same time and having almost the same plot, the series was cancelled.
The short is about a dog named Stewy, who wishes to go to school by dressing up like a boy and behaving like a human to fit in.
Differences between Stewy the Dog Boy and Teacher's PetEdit
Stewy sports a scratchy voice, while Spot from Teacher's Pet has an Americanized man voice.
Melvis' design makes him a cocky smart-aleck, while Pretty Boy from Teacher's Pet was being harshed and brave.
Instead of having four dogs, the Helpermans from Teacher's Pet had a cat, a dog and a parrot.
The owner of the dog in Teacher's Pet was just a boy, not two girls.
The teacher in Teacher's Pet was the mother of the owner, instead of a man teacher.
The principal in Teacher's Pet was supposed to be a dog-hater but in the short, he appreciated Stewy for his works.