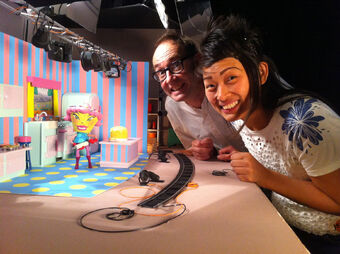 Stephen Holman is an Anglo-American artist that created the stop motion animation/puppetry segment Life with Loopy, seen on the Nickelodeon animated anthology series KaBlam!.
Holman's work is characteristic for incorporating paintings, stop-motion animation and performance art.
Early Life
Born in Hastings, England in 1962, Holman spent the majority of his youth drawing and painting in Sussex. In 1979 when Holman turned 17, he relocated to London where he experienced the influences of early punk culture. In 1984, Holman traveled to New York City where he made the decision to stay in the United States, inspired by the local downtown art scene.
Career Breakthrough
Between 1984 and 1986, Holman would screen experimental films at bars and nightclubs. However, to better engage his guests, he started to include live performance as well. This led to the formation of his first performance art ensemble, Torture Chorus, in 1986. Many live shows were then staged in popular New York City venues such as 8BC, The Kitchen, Danceteria and Franklin Furnace.
In 1987, Holman moved to Los Angeles where he co-founded Theatre Carnivale, a vaudevillian performance troupe/venue which showcased cutting-edge performance artists alongside exotic entertainment such as sword-swallowing strippers and professional magicians. By the early 1990s, Theatre Carnivale received grants and staged productions in major venues in the Los Angeles area as well as across the United States, England and Japan (including The Kitchen in New York City, England's Channel 4 TV and Tokyo's International Theater Festival). Holman's surreal sense of humor, combined with his skill of translating his art into colorful scenery, brought the group great success.
In the early 1990s, Holman was hired as an artist for CBS's Pee-Wee's Playhouse. He created the three-part segment "Joe Normal" for a Season 2 episode of MTV animation showcase Liquid Television in 1992. By this time, he had met his partner and future wife, Josephine Huang, who graduated from the San Francisco Art Institute. They would create their own film/television production company, (W)Holesome Products Inc., in 1993. Huang would land work on the 1993 stop-motion animated musical dark fantasy Halloween-Christmas film The Nightmare Before Christmas and was lead animator for the 1996 musical fantasy film James and the Giant Peach.
Creation of Life with Loopy
Holman's next pursuit was with Nickelodeon, by creating a live-action short film "We Are the Shrimpskins" for SNICK Snack, the network's block of interstitials. As part of the contract, an animated short film was to be included as well, leading to the creation of Life with Loopy. While "Shrimpskins" did not continue, Loopy would be successfully pitched for Nickelodeon's upcoming animated anthology series KaBlam!, in 36 episodes with one segment each, and a half-hour special episode (the latter featuring segments seen on previous episodes of KaBlam!) that aired by itself on the network.
After Life with Loopy
Holman and Josephine Huang co-created the 2002 animated series Phantom Investigators, airing on Kids' WB. However, it only ran for one season with 13 episodes. In 2012, they co-created a Disney Junior series, The Bite-Sized Adventures of Sam Sandwich, with 10 short films.
Photo/Video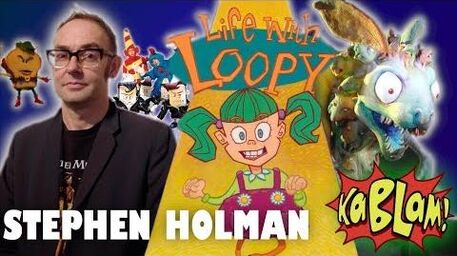 External links