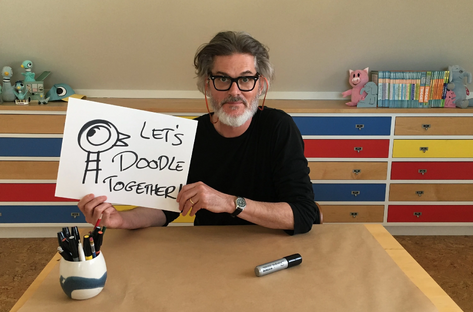 Maurice Charles Willems is an American writer, animator, voice actor and creator of children's books. He created The Off-Beats, a traditional animation segment featured on the first two seasons of the Nickelodeon animated anthology series KaBlam!.
Born in Des Plaines, Illinois and raised in New Orleans, Willems attended Trinity Episcopal School and Isidore Newman School. He graduated cum laude from New York University's Tisch School of the Arts.
Willems started his career as a writer and animator for Sesame Street, where he earned six Emmy Awards. After KaBlam!, he went to Cartoon Network in 2000 to create Sheep in the Big City, where it was a success with the critics but ultimately failed to attract sufficient viewership and was canceled after two seasons.
Staying at Cartoon Network, Willems worked as head writer on the first four seasons of Codename: Kids Next Door, created by Tom Warburton, a colleague from Sheep in the Big City. He then departed the show to pursue his writing career.
Three of Willems' books have been awarded a Caldecott Honor: Don't Let the Pigeon Drive the Bus! (2004), Knuffle Bunny: A Cautionary Tale (2005) and Knuffle Bunny Too: A Case of Mistaken Identity (2008). He also created the Elephant and Piggie early reader series, those books won the Theodor Seuss Geisel Medal in 2008 and 2009, and Geisel Honors in 2011, 2012, 2013, 2014 and 2015. In 2010, he introduced a new series of books featuring Cat the Cat, also aimed at early readers.
Willems' books have been translated into a number of languages, spawned animated shorts that have twice been awarded the Carnegie Medal (Knuffle Bunny, 2007, and Don't Let the Pigeon Drive the Bus, 2010), and been developed into theatrical musical productions. His illustrations, wire sculpture, and carved ceramics have been exhibited in galleries and museums across the nation. Willems made several appearances on NPR's All Things Considered as the show's "radio cartoonist" in 2008.
In 2019, he was named the Kennedy Center's first education artist-in-residence. In 2020, the Center sponsored a series of virtual lunch doodles with Willems as a way of keeping children entertained during the COVID-19 pandemic.
Willems married Cheryl Camp, a production manager for television commercials, in 1997. They reside in Northampton, Massachusetts, with their son, Trix.
External links