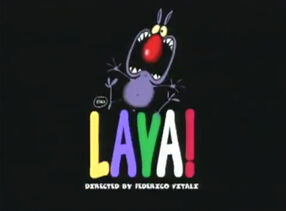 Lava! is a traditional animation segment by French writer and director Federico Vitali, seen on the first two seasons of the Nickelodeon animated anthology series KaBlam!. In the first season, it is introduced as a Surprising Short while introduced normally in the second season.
Under its original title Guano!, the series originally aired in 1991 with a total of 50 short films (it was later broadcast for syndication in other European countries under the same name). Each feature different animals in a distinctive, hand-drawn style. Only five were shown on KaBlam! because of the more risqué elements in many of them.
Trivia
Due to copyright issues, this segment was cut out in later reruns of KaBlam!. Some episodes in the United States are banned as a whole because of this.

However, it can still be seen in the credits in United States airings.
Episodes with Lava! are also left intact in Henry and June segment creator Mark Marek's KABLAM! Korner as they are beta tape copies.

Lava! and The Adventures of Patchhead are the only non-regular segments to cross two seasons.
Lava! was shown during commercial breaks of international Nickelodeon broadcasts, such as Germany in 1997. The short film was one not seen on KaBlam!.
International airings of KaBlam! had the Lava! shorts intact, like one translated in German for syndication on Nickelodeon Switzerland.