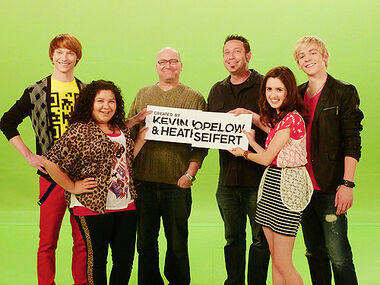 Kevin Kopelow and Heath Seifert are an American television writing and producing team that wrote episodes for the Nickelodeon animated sketch comedy KaBlam!.
Kopelow and Seifert wrote/produced for All That, Kenan & Kel, The Amanda Show and other Nickelodeon programming, and created the Disney Channel show Austin & Ally (2011-2016). They also created the Nickelodeon show Cousins for Life (2018-2019).
As an actor, Kopelow portrayed stage manager Kevin on All That, small roles in Kenan & Kel and in the 1997 movie Good Burger as Sad Clown. He also appeared frequently as a panelist on the game show Figure It Out.
Episodes written