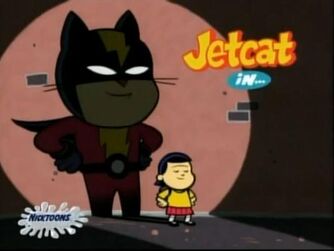 JetCat is a comic book series created by Jay Stephens (creator of Tutenstein and The Secret Saturdays) that was spun off into a short-lived cartoon series of shorts that aired on select KaBlam! episodes.
Two shorts, "Sacred Identity" (on the episode "More Happiness than Allowed By Law") and "Project: Evil" (on the episode "Holdeth The Pickle, Holdeth The Lettuce") aired in 1998, while the last two shorts "Lunchtime" (on the episode "Timeless") and "I Was a Grade School Weremoth" (on the episode "The KaBlair! Witch Project") aired in 1999/2000, respectively.
The first episode of JetCat was originally going to introduce The Two-Fists Five (JetCat's superhero team) but they were cut from the episode at the last minute of the episode's production despite having the final recording tracks of The Two-Fists Five.
Differences between the comic and the animated series
Edit
In the comics, Melanie Ilk was an elementary grade student who goes by the human identity of Melanie McCay. In the series, Melanie McCay is her real birth name and she did not hide her identity.
Tod Johnson was a mean child who threatened to tell JetCat's identity unless she does what he wants. In the series, Tod Johnson is nice and is friends with Melanie, but only threatened to tell JetCat's identity in the first episode.
Avery Ilk is Melanie's half-brother who later becomes Jetcrud. This happens in later episodes but the only villains that appeared so far are the Giant Robot, Moby Dock, Bella Kiss and Vicki von Verman.
Tutenstein is originally a villain in the comic but due to the cartoon series on KaBlam! ending in 2000 and the Tutenstein series going in production in 2003, his appearance in the cartoon was canceled.
Since the Two-Fists Five were deleted in the cartoon, references of Melanie being an alien and joining a superhero team did not exist in the cartoons.