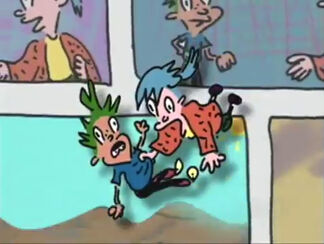 Henry and June are the two (animated) hosts/main characters of the Nickelodeon animated television series KaBlam!, and the one-time airing Henry and June Show. On each episode of KaBlam!, they introduce the cartoons and also have adventures of their own in between.
Henry, voiced by Noah Segan, is one of the hosts of KaBlam!. He is disaster-prone, energetic, foolish and he believes that he looks good shirtless, though he is smarter than June especially in the first season.
June
, voiced by
Julia McIlvaine
, is the other host of
KaBlam!
. In the first season, she's dim-witted but becomes more mature and smart in the following three seasons.
Non-KaBlam! Appearances Edit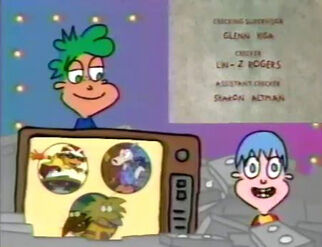 In the summer of 1999, Henry and June starred in Nicktoon Summer Jam, which was shown during commercial breaks of other Nickelodeon programming.
In the fall of 1999, they hosted 101% Spooky Whizbang!, a Halloween block of Nickelodeon programming.
From 1999 to 2000, the pair also were the hosts of U-Pick Friday (the predecessor to U-Pick Live) where viewers called a phone number on the screen or voted on Nick.com to choose the next show.
In 2001, Henry and June anchored Nicktoon World News, their final "new" appearances on television. Julia McIlvaine did not reprise her role as June in this due to other commitments, however, Noah Segan continued to voice Henry.
Community content is available under
CC-BY-SA
unless otherwise noted.