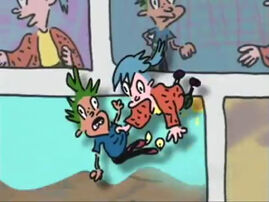 Not to be confused with the 1986 book Henry and June: From the Unexpurgated Diary of Anaïs Nin, or Henry & June, the 1990 American biographical drama film based on said book.
Henry and June are the two (animated) main characters of the Nickelodeon animated anthology series KaBlam!, one-time airing The Henry and June Show and hosts of various blocks of programming on the network. Henry is voiced by Noah Segan and June is voiced by Julia McIlvaine.
In KaBlam!, the two appear in a comic book-like setting where each episode, they introduce the shorts while in subplots of their own. The two are also often portrayed as being actors in-universe, meaning Henry and June are either characters in a comic book about a TV show or actors in a TV show about a comic book.
The Henry and June Show was a half-hour television special, aired in an attempt to spin off the titular characters' segments on KaBlam!. Henry and June, not in the comic book for once, host their own stand-up comedy program with musical guests and a live audience, and then go to school, tackling hard subjects.
Non-KaBlam! or The Henry and June Show Appearances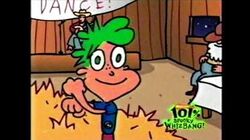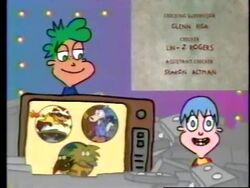 Henry and June appeared in various program blocks for Nickelodeon, either as hosts or as mascots.
Any times mentioned are in the North American Eastern Time Zone.
The Big Help
Between late 1996 to early 1997, Henry and June had their first appearance outside KaBlam! in a commercial break (a redone segment from Season 1 episode "You've Tried The Rest! Now Try The Best!") for The Big Help, a community outreach program made famous in 1994 by Nickelodeon. It was a yearly event in which kids from around the country would call in to try to get one of their local parks refurbished by the network.
Non-Stop Nicktoons Weekend
On November 29, 1997, Henry and June appeared in Nickelodeon's Non-Stop Nicktoons Weekend, where they viewed fan-submitted drawings of Porkchop from Doug, Arnold and Gerald from Hey Arnold! and Chuckie, Angelica and Tommy from Rugrats.
Henry and June's Nicktoon Summer Jam
In the summer of 1999 (starting July 5 and ending August 30) on weekdays from 2-5 p.m., Henry and June hosted Nicktoon Summer Jam, a marathon of a Nickelodeon program such as Rugrats, Hey Arnold!, The Angry Beavers, The Wild Thornberrys or Doug. During commercial breaks, Henry and June were either seen on the beach or in the meat section of a grocery store, where one time they worked a "summer crisis" hotline or another time discussing their excitement for the premiere of SpongeBob SquarePants (ironically, the following year they would be replaced as hosts by the titular character and friends. The block also was renamed to SpongeBob's Nicktoon Summer Splash).
On September 24, 1999, Henry and June hosted 101% Whizbang!, themed around the fall season. In the block, they were doing activities typical for this time of year — like camping or watching baseball. It aired from 7-9 p.m.
In October 1999, Henry and June hosted 101% Spooky Whizbang!, featuring a marathon of Nickelodeon programming with Halloween-themed episodes. The block was always broadcasted on a Friday from 7-9 p.m.
Before the beginning and at the end of an episode, Henry and June were shown in spooky settings where they had fun while acknowledging classic Halloween tropes, like being possessed or staying in abandoned buildings during the night.
So far, only the animated segments of 22 October have been mostly found, with the segment leading to All That still missing. The others from 1 October, 8 October, 15 October and 29 October are currently considered lost media.
From November 5, 1999 to September 8, 2000, Henry and June were the stars of U-Pick Friday (the predecessor to 2002's U-Pick Live) where viewers called a 1-800 phone number on the screen or voted on Nick.com to choose the next show, with the result being presented by the duo. The block aired on Fridays from 7-9 p.m.
U-Pick Monday Marathon was a special version of the regular U-Pick Friday show. Via the material available, this special show would have worked the same way as the previously mentioned block. It aired on January 17, 2000 from 2-8 p.m.
According to the Nickstory Wiki, there had been another broadcast of the marathon on January 7, 2002, but the details to that have been mostly lost.
U-Pick Saturday Marathon
Another special version of U-Pick was aired on April 22, 2000 between 1-5:30 p.m. With the exception of the airing date and timeslot, nothing else is currently known.
Nicktoon World News
In late 2000/early 2001, Henry and June anchored Nicktoon World News, their final "new" appearances on television. During commercial breaks, they announced upcoming programming on the network or provided updates on new films, such as Pokémon 3: The Movie. Noah Segan continued to voice Henry, but Julia McIlvaine did not reprise her role as June in this due to a commitment with filming for the CBS sitcom Danny.
Gallery