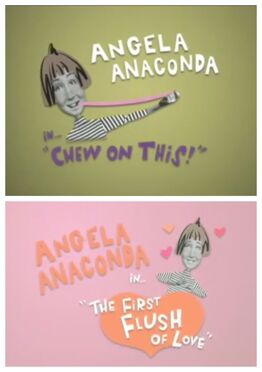 Angela Anaconda is a cutout-animation segment co-created by Joanna Ferrone and Sue Rose that originally started on the Nickelodeon animated sketch comedy KaBlam! in two Season 1 episodes, each featuring one segment. It then became a series on Fox Family Channel in the United States and Teletoon in Canada, from 1999 to 2001 with 65 total episodes over three seasons.
The show is about a girl named Angela Anaconda, a tomboyish, imaginative, freckle-faced eight-year-old girl who finds herself unpopular in school and always seems to be in the wrong place at the wrong time. Nanette Manoir, a fake-French girl who everyone loves and wants to be, always mocks Angela. During each episode, a poem-like story is narrated by Angela. She often gets her revenge on the antagonist of that particular episode, and more often imagines her revenge on explained antagonist in a highly-exaggerated manner.
Episodes
Two pilot episodes were aired: The first one "Chew on This!" aired in "Untitled (Why June Refuses to Turn the Page)" and the second one "The First Flush of Love" in "Comics of Champions". Both episodes depict Angela being tricked by Nanette in various situations.
The animation quality in the pilots was far more crude as the serialized ones and different voice artists were used.
Trivia
Due to copyright issues, the KaBlam! episodes that included the Angela Anaconda shorts only re-aired internationally during syndication on television.
Although KaBlam! has begun appearing on streaming sites like VRV and Paramount+, the two episodes where Angela Anaconda was included — "Untitled (Why June Refuses to Turn the Page)" and "Comics of Champions" — are not available, once again because of the difficult copyright situation.