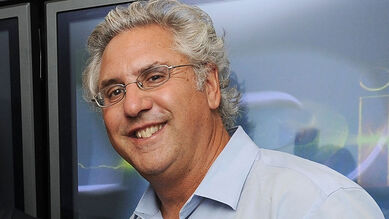 Albie Hecht is an American media executive and film/television producer who served as an executive producer on the Nickelodeon animated sketch comedy series KaBlam!. He also co-created the stop motion series Action League Now! with Robert Mittenthal and Will McRobb, which started on All That before finding its home on KaBlam!.
Hecht graduated from Francis Lewis High School in Queens, New York City where he played varsity basketball and baseball, and was president of the school's student organization. He was director of artist relations at Terry Cashman's and Tommy West's Lifesong Records in the 1970s, where he oversaw the career of progressive rock band Crack the Sky and then became manager for singer-songwriter Dean Friedman.
A former president of Nickelodeon Entertainment, Hecht oversaw the development and production of SpongeBob SquarePants, Dora the Explorer, Blue's Clues and live action shows including All That, Kenan & Kel and The Naked Brothers Band. He built the digital animation studio Nickelodeon Creative Labs (also known as Nickelodeon Digital and often shortened as Nick Digital) as well as co-created Nickelodeon GUTS and the Nickelodeon Kids' Choice Awards, with Alan Goodman and Fred Seibert, as the founding principal and executive producer of Chauncey Street Productions (originally, a division of Goodman's and Seibert's Fred/Alan Inc.).
Hecht was the executive producer of The Rugrats Movie, the first non-Disney animated feature to cross the hundred million dollar mark, and also produced The SpongeBob SquarePants Movie and Jimmy Neutron: Boy Genius, the latter being nominated for an Oscar.
From 2003 to 2005, Hecht was president of Spike TV (now Paramount Network), overseeing the creation of programs including The Joe Schmo Show and Most Extreme Elimination Challenge (MXC), as well as signing the Ultimate Fighting Championship (UFC) franchise. In 2005, he founded the digital studio Worldwide Biggies. From 2013 to 2015, he was the executive vice president and general manager of HLN, a spinoff of CNN where it primarily carries a schedule of news programming during the daytime hours and the remainder of the day/night dedicated to true crime programs. In 2017, Hecht became the chief content officer of pocket.watch, a digital media studio that specializes in extending kids and family YouTube stars and characters into global franchises.
Hecht is married to producer Susan MacLaury. They are co-founders of Shine Global, a nonprofit media company that gives voice to children and their families by telling stories of resilience to raise awareness, promote action and inspire change.
External links